Oct 2020 Status Update
It is time for another Status Update for Namalsk! As expected, things are becoming quite busy for me as we are getting closer and closer to the release date now, but it is awesome to see the hype for Namalsk. I am doing all I can to ensure things will go as smooth as possible. Before I jump into any details, I would like to once again mention the official Namalsk discord, which you can join by clicking on this link.
For past weeks I have been running the Namalsk stories event and it has been really blast so far. As mentioned in the latest diary blog, there is one more left and it is going to be a special one. Mainly because of the fact it will be a LIVE event. Book your calendars for 4th Nov, 7pm (UTC), because you definitely do not want to miss it! Keep an eye on my Twitter, Twitch and Discord.
I have been heavily invested in making sure that upcoming version of DayZ (1.10) is in the best possible shape it can be. This one is quite big one and requires lot of playtesting too. If you have a time, please hop on Experimental servers and let us know!
In this article, I would like to talk about key parts of the cold survival changes, coming with the 1.10 game update. Work on these has been heavily impacted by my work on Namalsk as I have been able to pin point parts of the cold survival mechanics, which were in a dire need of changing.
One of those parts is the base environment temperature. Previously, the system was relatively simple interpolation in between day and night temperature (only two values, which were not set per terrain). The interpolation also ignored the time when sun rises and sets. In 1.10, this was changed into a more realistic temperature "curve", which can be seen on following picture:

This ensures that the highest base temperature is reached around afternoon and lowest in the morning (atmosphere gets colder the longer it is without a sunlight). This is of course just a base temperature and there is lot of modifiers, which are applied to it (overcast, windchill,..). One important thing to note is that this new system allows to defined min and max temperature in each month per terrain. This means that just by changing the server time in config and init.c, you can achieve a different temperature and pick time of the year you prefer for your server.
There was quite a bit of balancing done when it comes to different phenomena's affecting the base environment temperature at current players location. General aim was to make the wind and altitude more impactful, houses to be warmer place to hide during cold temperatures and balance out wetting and drying speeds (to ensure your clothes wont get wet extra fast and that there is still purpose in making fires or using wring action). This is also supplemented by newly implemented world wetting/drying/heating and cooling mechanics, outlined in August 2020 status update.
In order to survive in cold rainy environments, you are going to need to have good clothes. The problem always was that you could only guess how good or bad certain piece of clothing was based on its look and state. This was changed in 1.10 and inventory tool tip (and inspect window) now shows 5 different states of insulation insulation. It reflects its actual state, meaning that wetness level and damage state will update the insulation state.

Speaking of clothing – there has been quite a lot of work done when it comes re-balancing individual clothing pieces. There were lot of oddities in plenty of clothing pieces, which have been corrected. New approach was taken in an attempt to diversify clothing pieces between each other alongside trying to break the meta of wearing max cargo space / camo clothing. This gives players interesting choices that are based on the current weather (eg. should I wear this pea coat or switch to this uniform with more slots?).
Another important bit is that since 1.10, clothing has various maximum wetness state they can reach. Waterproof clothes max out on Damp, but usually provide lower heat insulation. Heavy textile clothes usually max out on Soaked, but provide higher heat insulation (when they don't get wet or are maintained dry). So to re-iterate once more, 1.10 should be lot more about choices of clothing than ever before.
Last thing I would like to talk about here is the heat buffer feature. This is something I simply explain as your own personal inventory fireplace you carry around. If you are in the temperature comfort zone (temperature icon is white), you can transfer the heat from a nearby fireplace and use it later, after you leave the fireplace. If you reach higher values, a new plus sign will show up next to your temperature icon on your HUD.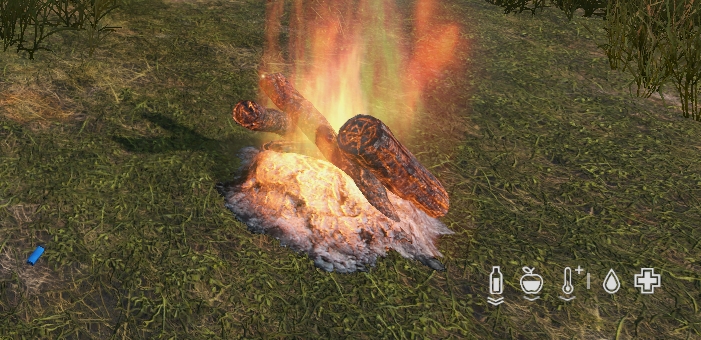 It takes few minutes before the heat buffer starts to decay and the decay rate itself is dependent how cold is it around the player.
Well, this one was a bit longer than I expected, but I hope it proved to be useful in describing some of the things that were added with 1.10 update. For more details about, definitely check out the 1.10 Experimental changelog at the official forums. I am heading back to my usual hideout, trying to get all the things sorted out before Namalsk release happens 🙂
Also, do not forget to keep an eye on my Twitter, Twitch and Discord on November 4th (this Wednesday, around 7pm UTC).